Converting mobile websites to apps using WordPress Plugins
Congratulations! Your search for "WordPress plugins for a website to mobile app conversion" has landed you in the perfect place. Here, we will be looking in details at some of those plugins also covering some of the free plugins.
Thanks to the advancements being made in the technology sector, the ever-existing war between websites and apps is coming to an end. While both websites and apps have established their dominance in the market, business enterprises want to get greater reaches by establishing themselves over both websites and apps. Although a decade earlier from now, developers would have had to write separate codes for both websites and apps, in the 21st century it is now possible to convert a website into an app without writing any heavy codes at all.
Developers might want to convert their websites to mobile apps:
To target more audience and to get a better reach.
Apps can outperform their corresponding websites in revenue generation.
To have the power to send push notifications.
To enhance the mobile user experience and to meet modern user expectations.
To build more loyalty and engagement by establishing itself on an app market such as Google PlayStore or Apple AppStore.
One thing to keep in mind is that converting a website to an app does not affect the website at all. The website can still behave the exact same way and is not destroyed or changed. Now that you know how beneficial can this practice be, let's look at some of the best WordPress plugins to get this job done. So let's get started without further ado.
First things first, what are WordPress plugins?
WordPress plugins are essentially bits of code that "plugs in" to your self-hosted WordPress site. Hence, comes to the name "plugins".In layman terms, a WordPress plugin is something that adds new functionality to your WordPress site or extends existing functionality on your site.
Converting a WordPress site to an app using the Blappsta plugin
Blappsta is a free plugin that you can use to create your own WordPress blog app. It is a comprehensive plugin in the sense that it supports iOS, Android and Windows platform. Blappsta also provides a preview where you can see how your app will look on the freeway.
Blappsta makes it very easy and efficient to convert WordPress sites to apps in three general steps:
Curate exciting content for your WordPress site and design your website to attract a lot of readers.

Once your website is ready, simply download the Blappsta plugin from the plugin page or from the WordPress Plugin Repository. Install it in your WordPress backend and set it up to your liking.

And now you have a fully functional app for your readers on both iOS and Android. Your readers will be able to download the iOS or Android version of your WordPress blog app from the app store of their smartphone by searching for the application name that you choose in the plugin.
Features of the Blappsta plugin:
Has the ability to send push notifications.
Can use SEO features by deep linking your app.
Has an option for social sharing.
Has speedy caching properties making it fast.
Plugin page: Blappsta
Converting a WordPress site to an app using the SuperPWA plugin
SuperPWA is a free WordPress plugin that instantly converts your website into a fully functional mobile app with no code edits needed. However, SuperPWA does not exactly convert your WordPress site to an app, it could not be excluded from our list of best plugins cause it converts your site to a mobile-like app also called "progressive web apps".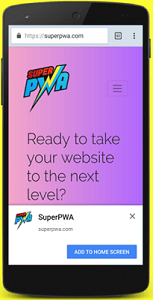 Progressive Web Apps (PWA) is a new technology that creates a middle ground between a website and a mobile app. They are installed on the phone like a normal app (web app) and can be accessed from the home screen.
Users can come back to your website by launching the app from their home screen and interact with your website through an app-like interface. Your return visitors will experience almost instant loading times and enjoy the great performance benefits of your PWA! Although, if you would like to have a native app rather than a progressive web app, you can upgrade to the paid version to unlock the Android app generator. This feature allows you to convert your PWA into Android Application with one click which can be placed on PlayStore as well.
To convert your website to an app using SuperPWA, simply:
Go to the Plugins page of your WordPress site and search for SuperPWA.

Click on the Activate button next to the search results.
Fill in the details such as your application name, description, splash image and more.

After you are done filling in the necessary details, make sure that you get these three checks in the Status:

Once you are satisfied, click on the Save button and you would have your progressive web app ready.
Features of the SuperPWA plugin:
It has easy configuration options.
It is still under active development that means that new features keep on rolling out.
It has an active support channel for all your queries.
It has extensive documentation available.
Plugin Page: SuperPWA
Converting a WordPress site to an app using the MobiLoud plugin
MobiLoud is a paid plugin that lets you convert your WordPress website into a native mobile app for iOS and Android. It comes with a customizable interface that integrates your existing theme and plugins, including WooCommerce. It can therefore act as a powerful platform to improve user experience, drive growth and revenue. Additionally, MobiLoud's team is on hand to manage the building and publishing processes, as well as to lend their top-notch support.
Being used by companies such as NYTimes, WSJ, Guardian, Business Insider and more, MobiLoud has no doubt established a sense of trust and quality in the market.
How to convert WordPress site to an app using MobiLoud:
Go to the plugins page and search for MobiLoud.
Download the MobiLoud plugin and click on the Activate button.
Once you activate it, you can see four tabs. Namely: Design, Menu Configuration, Test The App and Publish Your App.
Fill in all the necessary details starting from the Design tab.
Once you are done, you can get a live preview of your app. You can also test it by connecting an iOS or Android mobile to your PC.
Go to Publish Your App and select a plan that best suits you.

Your app will then be published.
Features of MobiLoud:
Ability to create native news apps: Get beautiful, fast native apps, like those from NYT, WSJ, Buzzfeed, Huffington Post.
Can send push notifications: Notify readers with timely push alerts and breaking news notifications across iOS and Android.
Get full support for customization and further updates: Make your app unique with the help of our designers and developers.
Exceptional support: People at MobiLoud are only ever a phone call away to discuss how they can improve and expand your app over time.
Plugin Page: MobiLoud
Converting a WordPress site to an app using the AppPresser plugin
AppPresser is an app builder that specializes in integrating WordPress. It includes several WordPress plugins and a theme that perform special functions like integration with your favourite custom plugins. It is one of the most popular plugins on the market that can help you turn your WordPress website into an Android or iOS mobile app. AppPresser is for anyone who needs an app for their business, or for those working with clients.
You don't need mobile app development experience, if you can set up a WordPress site, you can build an AppPresser app.
To create an app using AppPresser, simply add pages, create menus, and customize the design. That's all that you need to do without writing a single line of code. AppPresser will then automatically use the components of your website to make it easy to add your content and create your app.
Features of the AppPresser Plugin:
All-time live preview: Having a live preview is one thing but having a live preview for the entire time while you are designing so that you always know how it looks is something different.
A familiar WordPress customizer: The customizer that AppPresser offers is very familiar to the WordPress customizer. So if you are familiar with WordPress, you will be more than comfortable with AppPresser.
Testing before publishing: AppPresser provides various tools to test your converted app thoroughly before finally publishing it to the market.
Plugin Page: AppPresser
Converting a WordPress site to an app using the AppMySite plugin
AppMySite is a powerful plugin to convert your WordPress websites to a mobile app. Converting your WordPress site to a premium and native mobile app is a breeze with AppMySite. Its speciality and the reason for its popularity is its instant app delivery. AppMySite believes that building your WordPress app doesn't have to be a long-drawn-out process. That's why it allows you to create your own app within minutes of signing up.
To convert your website to a mobile app using the AppMySite plugin, simply:
Download and activate the AppMySite plugin on WordPress.
Auto-populate the content of your mobile app with content from your website and all the updates will be reflected instantly.
Test and publish your app.
It's that easy.
Features of the AppMySite plugin:
Enable guest browsing: It enables your users to browse through your app content without signing up.
Ability to create multilingual apps: This is not something that every plugin can do. But that's where AppMySite specializes. By creating multilingual apps, you can reach a larger audience.
Enable smart search and filtering: It allows users to filter their searches and narrow it down and smart search to enhance content discovery on your mobile app.
Plugin Page: AppMySite
In conclusion, these were a few of the best available plugins to convert a WordPress site to a mobile app. Hope you try them out.